Telco Market Study: New Zealand (2022)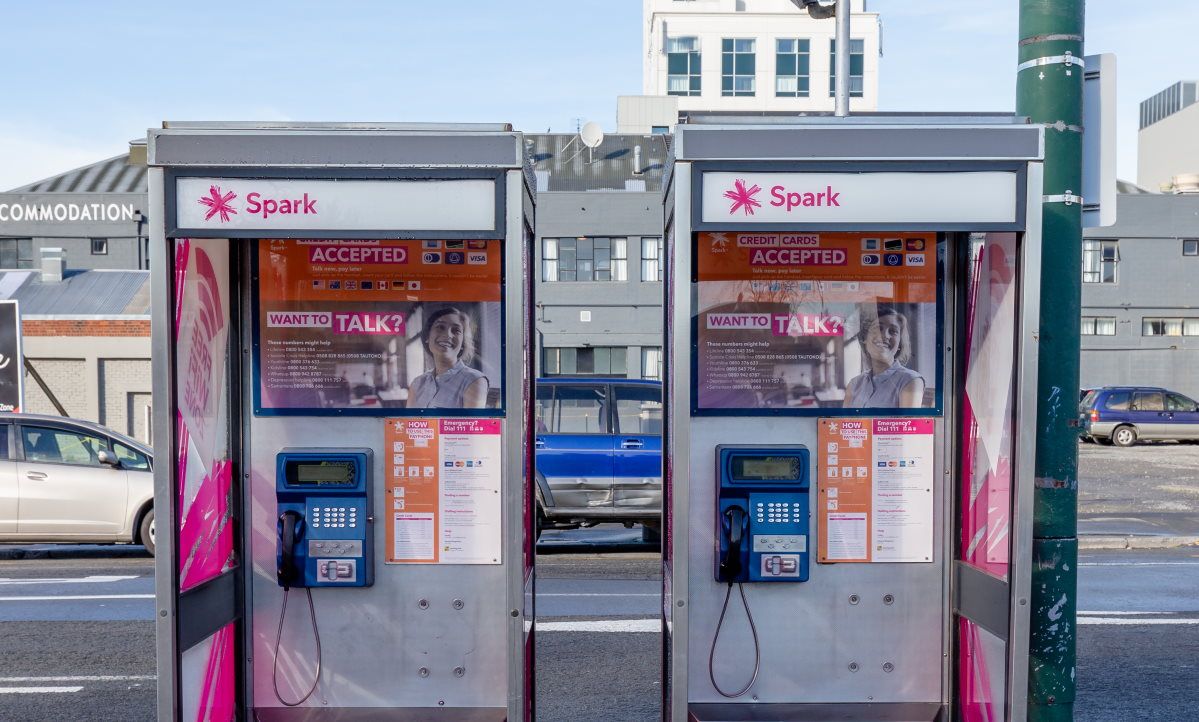 First article in the series is describing New Zealand (Aotearoa) and its market, population-wise similarly sized country as Finland but with notable differences in market regulation and technology mix.
Note: This article is under works.
New Zealand
New Zealand is a high income, economically developed country, with 5,131,480 residents, situated in the southwestern Pacific Ocean. NZ has a GDP (PPP) of $48,317 and ranks 4th in the Index of Economic Freedom published by the Wall Street Journal and the Heritage Foundation.
Geographically New Zealand is divided to two primary islands, North and South Island. Roughly 77% of the population live on the North Island (Te Ika-a-Maui) and it has a double the population density of South Island (Te Waipounamu). [1]
Telecommunication Sector
Country has a high penetration rate of fixed (1.8 M connections) and mobile (5.8 M connections) network services with strong wholesale entity providing market access to new entrants. Total market revenue is $3.13 billion USD (NZ$ 5.29 billion) and market cap of NZ$ x.xx billion.
New Zealand shares some of the typical traits of deregulation and privatization of postal and telecommunication services during 1980s and 1990s with other countries like UK, Sweden, Germany, and Spain. Privatization of telecom services was completed late 1980s, and public listing of Telecom New Zealand took place in 1992. NZ stayed fairly deregulated throughout the 1990s and market boundaries were mostly defined via litigation.
Regulation of the market is governed by Comcom (Commerce Commission New Zealand) under the Telecommunications Act 2001. And ever since, NZ government has continued its active role in developing the market.
Other notable remarks
As of 2022, NZ government is heavily subsidizing roll-out of fibre networks via its Ultra-Fast Broadband initiative (UFB and UFB2) aiming to complete in 2022 and a rural area broadband rollout called Rural Broadband Initiative (RBI).
Main Market Players
New Zealand has effectively a triopoly telecommunication market, after Laissez-faire market landscape of the 1990s, market entrances and consolidation of the 2010s.
Spark NZ (formerly Telecom New Zealand), market leader both in residential mobile and fixed networks.
Vodafone NZ (2023: One New Zealand), currently a runner-up in mobile and fixed.
2degrees, a market challenger in both main product areas.
Spark NZ, artist formerly known as Telecom New Zealand
Spark NZ is the incumbent Service Provider in both fixed and mobile services. Company was spun off as part of splitting Telecom New Zealand into Spark and Chorus, a wholesale company in 2014. It has 41% market share in mobile and 39% in fixed services. Spark also employs two fighting brands, Skinny and Bigpipe.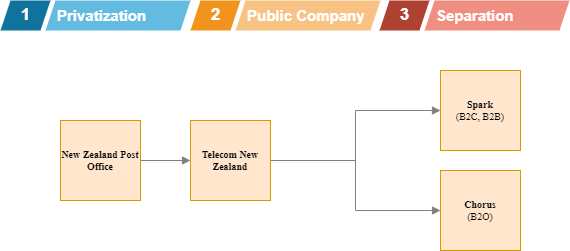 Telecom NZ built the 3G network with help of Alcatel-Lucent, Spark has built its 4G network with Huawei, Ericsson and Cisco as partners. [2] [3] Current RAN partner is Samsung [4], with 5G SA Core trials with Mavenir [5].
Company is traded publicly (NZE:SPK) and has a market cap of $5.73 billion USD.
Vodafone NZ, painful carve-out and burden of previous M&As
Vodafone NZ is the end result of several mergers and acquisitions. Company has 39% market share in mobile and 21% in broadband services.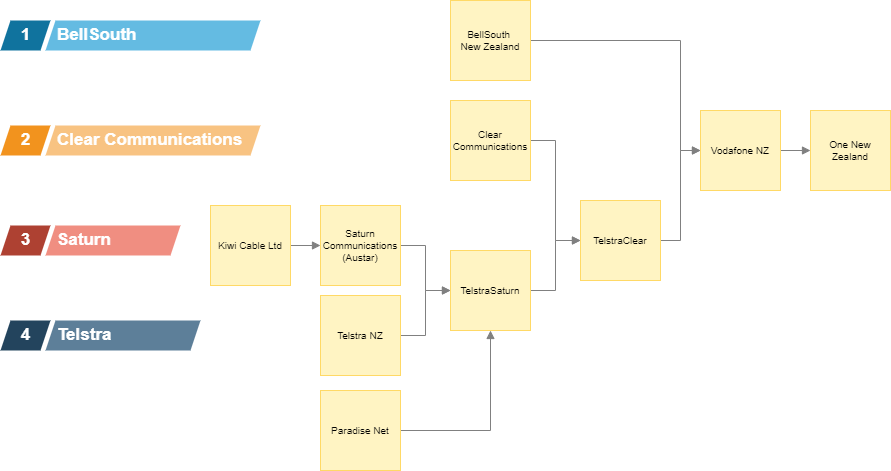 Company was sold in 2019 for $2.1 billion USD to Infratil Limited and Brookfield Asset Management Inc. [6] As part of the agreement, company agreed to license the Vodafone brand until the carve-out was successful. IT separation and carve-out from the previous owner has taken its time, a 3-year time period, and was completed in 2022.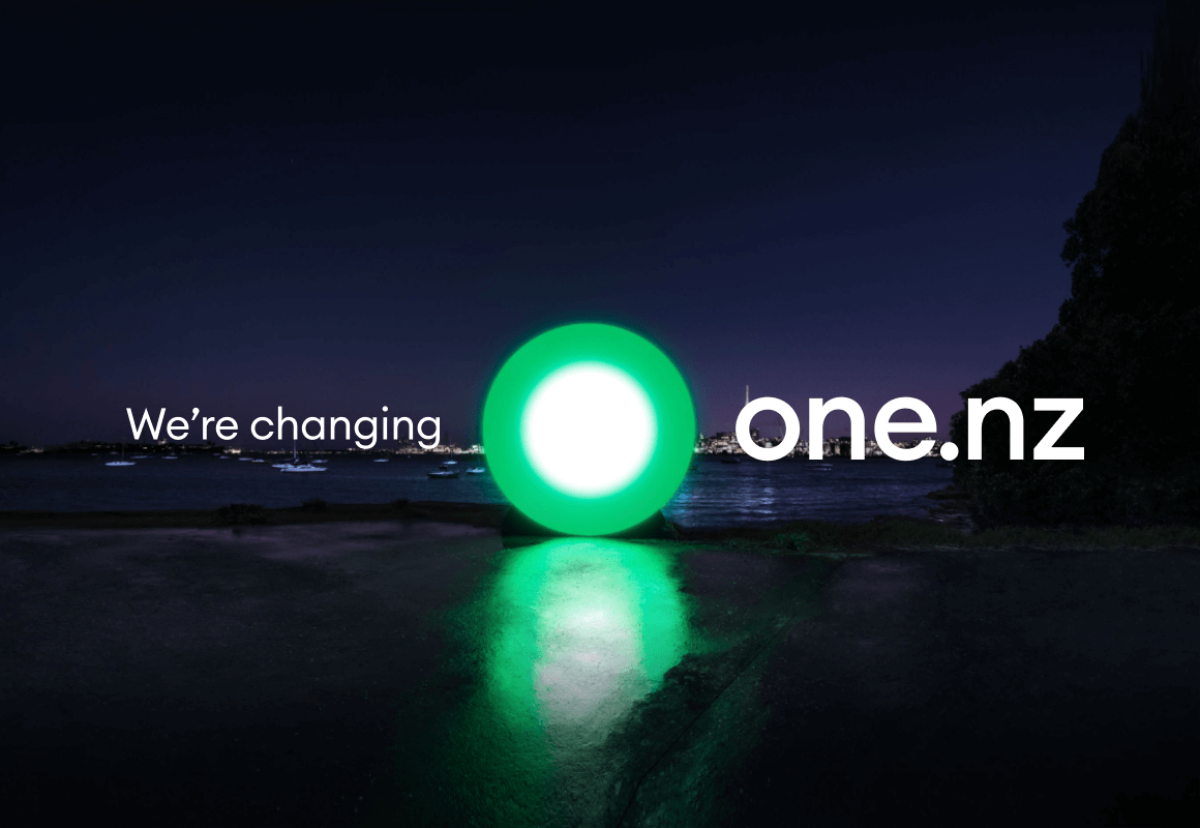 Vodafone has spun off its passive tower infrastructure to separate Tower Company in November 2022. [7] Company has continued its partnership for 5G RAN roll-out with Nokia, as with the past 30 or so years with 2G/3G/4G. [8] [9]
2degrees
2degrees entered mobile market as late as 2009, effectively ending duopoly between then Telecom NZ and Vodafone NZ. Originally the company was a consortium of African and Maori interest groups that was given a third mobile license, initially 2degrees heavily piggybacked Vodafone's network and built 10% population coverage to meet the minimum terms of the operating license.
Company has 19% market share in mobile and 7% in broadband. For distribution, it has 20 Company-owned retail stores, 40 independent dedicated dealers and over 2,500 points of sale through national retail chains and grocery stores.
2degrees and Orcon (Vocus NZ) announced their merger in 2022, boosting their footprint in particularly in broadband services.
Currently 2degrees is modernizing its 3G and 4G mobile network infrastructure away from Huawei technology due to local market scrutiny and rolled out Ericsson 5G RAN and Core in 2022. [10]
Mobile Network Market
Current availability of services:
2G (Vodafone)
3G/UMTS (Spark, Vodafone, 2degrees)
4G/LTE (Spark, Vodafone, 2degrees)
5G/NR (Spark, Vodafone, 2degrees)
Spark and Vodafone have competed for the #1 spot in mobile since the early 2000s, but network-wise companies were greatly different originally, as Telecom NZ ran CDMA and Vodafone GSM-based network, not resulting into true competition until with the introduction of 3G/UMTS and regulation when numbers could be ported between players in 2007 [11].
Market had been predominantly prepaid until 2021, with 45% on prepaid plan (2021), and other key trend is rise of unlimited data in plans, a massive shift from 10% to 42% in just one year (2020 vs 2021).
5G was officially launched in New Zealand in December 2019 with Spark out first technically and Vodafone as first player to provide commercial services.
MVNOs play a minor role, having a total market share of 1.8%, a low figure compared to some of the double-digit European countries like Germany or Denmark.
All three MNOs have established a joint mobile network via Rural Connectivity Group (RCG), similar to UK's Shared Rural Network or Finland's Yhteisverkko. Spark, Vodafone, and 2degrees have jointly allocated 700MHz spectrum to RCG. NZ Government's Crown Infrastructure Partner entity contracts RCG and local companies for initiatives like Rural Broadband Initiative and Mobile Black Spot Fund.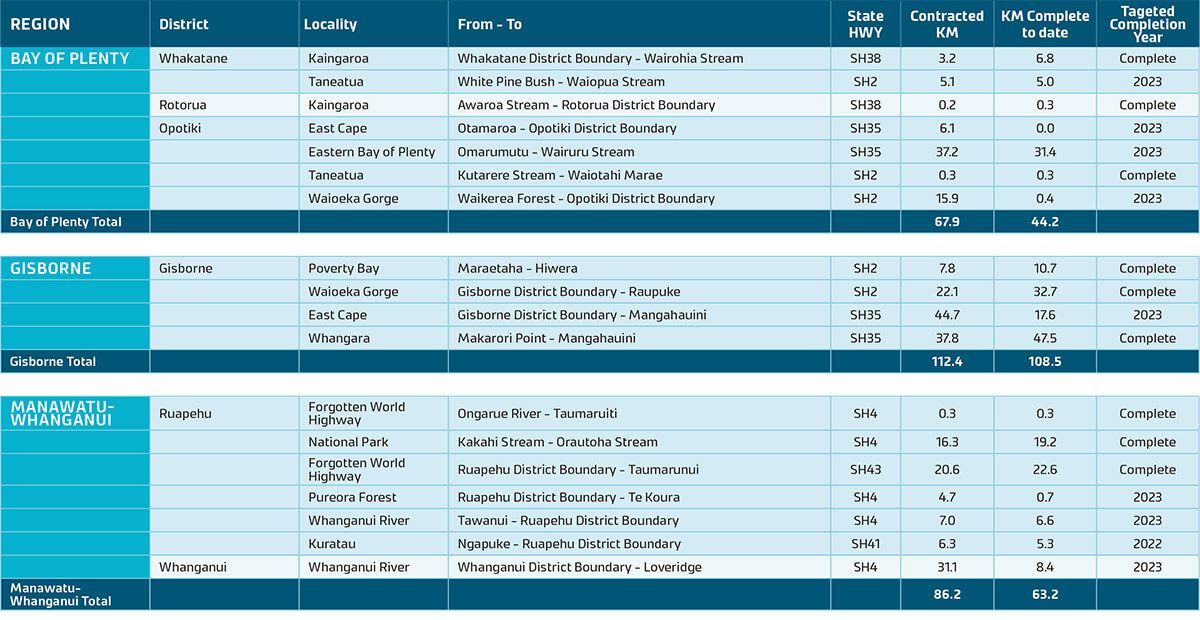 Historically NZ networks were based on D-AMPS/TDMA (2G) technology, and Bell South (now Vodafone NZ) started rollout its own rival GSM network in the 1990s. Telecom New Zealand (now Spark) was building CDMA networks until 2009 when it launched its 3G network, subsequently the company has never operated a GSM network.
Telecom New Zealand's CDMA services were shut down in 2012, 2degree's 2G services were shut down in March 2018.
Fixed Network Market
New Zealand is very mature fixed market with substantial infrastructure investments being made on governmental level and mandating on open-access policies.
First, let's look the distribution of Fixed-line broadband connections by technology.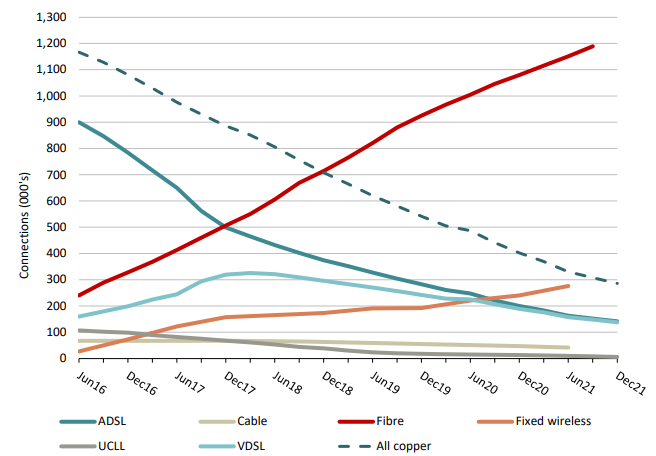 As mentioned, NZ government has continued to support fibre roll-out open handedly with $1.0 billion USD (NZ$1.7 billion) via Ultra-Fast Broadband initiatives, originally planned to cater for 75% of kiwis and then expanded for 87% fiber population coverage. [12]
As result of these public initiatives, Ultra-Fast Broadband (UFB) and Rural Broadband Initiative (RBI), NZ government expects total broadband coverage to be extended to 99.8% of the population. UFB Fibre-to-the-Home (FTTH) build out has been based primarily on GPON technology, but some P2P FTTH connections exist.
Local fibre companies (...)
Wholesale Market
Chorus

Invoices roughly $NZ 80 million / month.
Crown Infrastructure Partners
Revenues and Profitability
...
Chorus is an interesting entity as infrastructure player, as it has long depreciation values in its books (e.g., fibre has 41-year depreciation time).

Investments
NZ companies have very fiber-focused investment mix due to NZ public initiative funding and challenging geography, especially in South Island with sparsely populated areas (especially on western coast), mountain ranges (occupying 75% of land mass), and larger landmass than on North Island.
With the completion of UFB initiatives, expectation is that telecommunication investments will shift to capacity and mobile roll-out related activities.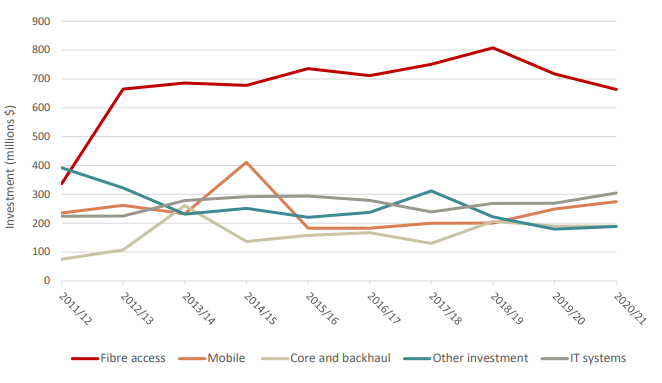 References